The cross country skiing is good with the snow, but the tele skiing....not yet. Julie, Dan, Ben and I had a great time trying to ski and sled.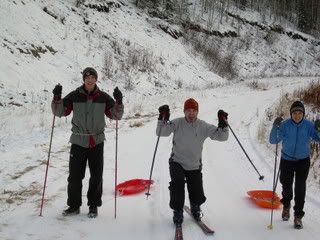 Heading to Moose Mountian...
Julie full speed ahead.
The dogs thought the sledding was great. We tried to take each one of them for a ride.
It was a ruff week of dialysis, but you'd never guess from this picture!
Shredding the Moose at 6pm, Dialysis at 6am. It is quite the life I lead right now.